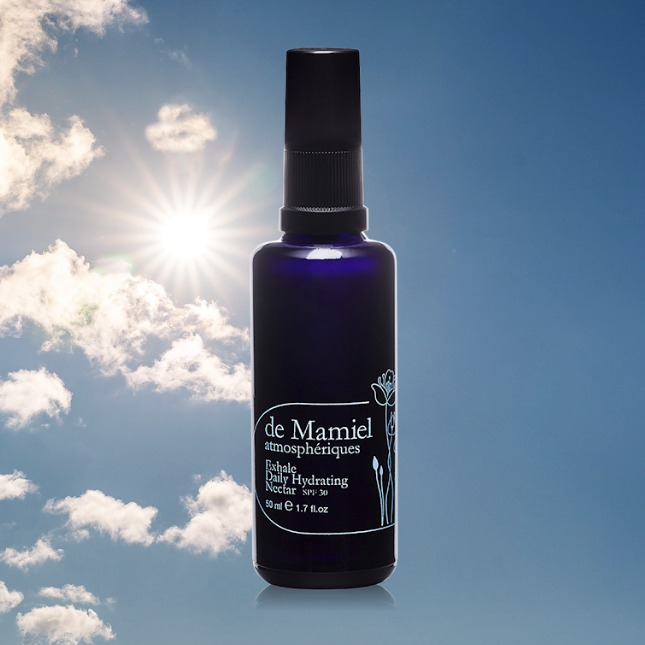 Nourish and protect your skin with our favourite SPF skincare  
---
Sunlight is incredibly important to our health, however, our exposure must be balanced to ensure that it does not become detrimental. Vitamin D, the sunshine vitamin supports our immune system, reproductive system, mood and our bone health. We can boost our vitamin D levels by spending time in the sun outside of peak UV hours, however when UV hours peak, applying sunscreen can help to protect your skin. 
Tonic Room has a variety of clean, nutrient-rich moisturisers that offer SPF protection without compromising on quality skincare. With active ingredients such as titanium dioxide or zinc oxide, the sunscreens are considered mineral or physical sunscreens and avoid chemical UV absorbers that can interfere with the endocrine system and cause skin reactions. 
Tonic Room has a variety of sunscreens that offer SPF30 or SPF50 protection. The number next to the SPF indicates how well the sunscreen protects the skin against sunburn i.e. how much longer it takes the skin to redden with the sunscreen applied than without it. This is calculated by dividing the number of seconds it takes skin to slightly redden when covered in sunscreen, by the number of seconds it takes skin to redden when no sunscreen is applied. If it took 500 seconds for the skin to redden with sunscreen, and 10 seconds for the skin to redden without it (500 divided by 10) the Sun Protection Factor is 50.
Regardless of the Sun Protection Factor, as a general rule of thumb, sunscreen must be applied 30 minutes before sun exposure and reapplied every two hours. If you are wearing make-up, reapply sunscreen over make-up by gently pressing it into the skin. You may wish to consider wearing tinted sunscreen instead of foundation to create ease of application. If you are unlikely to reapply your sunscreen, consider wearing a wide-brimmed hat to offer alternative protection.
Exhale Hydrating Nectar SPF30 by De Mamiel 
50mls, $177.00 
A daily moisturiser with added SPF 30 and a sheer tint, the exhale hydrating nectar offers luminosity and subtly evens the skin's tone. Blended from ultra-breathable ingredients and high-performing antioxidants, De Mamiel meticulously sources their ingredients and stores them inside a violet glass bottle designed to preserve the vitality of the botanical complex. The Exhale Hydrating Nectar contains hyaluronic acid to restore suppleness, omega 6 to maintain moisture and promote elasticity, and balloon vine extract to reduce redness and irritation. Zinc and titanium dioxide provide mineral sunscreen protection against sun rays offering physical UVA & UVB protection. Suitable for all skin types, apply the Exhale Hydrating Nectar to cleansed skin spritzed with Dewy Facial Mist. For skin that needs an additional hydration boost, apply their Intense Nurture Antioxidant Elixir underneath. 
Nutrient Day Cream SPF30 By Josh Rosebrook
50mls, available in tinted $150.00 or non-tinted $145.00
A lightweight moisturiser with SPF30 that can be used alone (choose from tinted, or non-tinted) or as a primer to prep and smooth the skin. Suitable for all skin types, the Nutrient Day Cream is unscented and does not contain any essential oils, making it suitable for particularly sensitive skin. Nutrient Day Cream delivers a potent combination of herbal actives and plant oils to repair, nourish, hydrate and protect the skin without leaving it feeling sticky. In 2022 Josh Rosebrook reformulated their Nutrient Day Cream with a high-quality non-nano, high-micron zinc oxide providing broad spectrum sun protection. Their tinted formula in a universal mineral-tint shade that blends with all skin tones to blur redness and balance tone. The non-tinted formula offers translucent sun protection and no white cast. Apply to cleansed skin spritzed with the Hydrating Accelerator.
Refreshing Water Creme SPF50 By Coola Organic Suncare
44ml, $89.00
Formulated with coconut water and hyaluronic acid, Coola's Water Creme offers a lightweight but hydration-boosting moisturiser that is untinted and has no-white cast. With 360 full spectrum protection from both the sun and modern-day skin stressors, the water creme protects the skin from UVA/UVB, blue light, infrared light and environmental pollution.
Matte Mineral Face Sunscreen SPF30 By Coola Organic Suncare
Unscented tinted $62.00, Cucumber non-tinted $62.00
A farm-to-face, antioxidant-infused mineral sunscreen with a matte finish, this daily sunscreen is formulated for all skin tones but is perfect for those with oily skin. Infused with plant oils such as rose hip, evening primrose and flaxseed, the formula improves elasticity, hydrates and provides a line-smoothing finish. 
Rosilliance BB+ Cream SPF30 By Coola Organic Suncare
Available in fresh rose, golden, and medium/dark $97.00 
A skin-perfecting tinted moisturiser, the rosilliance range offers a naturally luminescence glow with great coverage that supports a healthy-looking complexion. Available in three colours to perfectly match your skin tone, the SPF30 cream has a barely-there feel which ensures reapplying your SPF is easily done. Formulated with rose stem cells to smooth, moisturise and replenish your skin's natural resilience and offer a youthful-looking glow. 
Visit Tonic Rom in-store or online to find out more about our favourite sunscreens and how they can help protect your skin without compromising on quality. If you are interested in seeing how these wear on your skin, ask for one of the above to be applied at the end of your facial treatment or visit us in-store to sample. 
Written by Natasha Lubas, Naturopath & Medical Herbalist